At Whittal's we have everything you need in a one- stop Christmas shop with the perfect gifts for all your family and friends.
Now available online are Christmas Edition Triple Chocolate Brownie Bombs with a choice of Christmas Pudding, Snowflake or Gingerbread design.
Our traditional family favourite Christmas Edition Christmas Pudding Brownie bomb is the perfect centrepiece dessert for you and your loved ones. Delicious salted caramel fudge is made with just the right amount of Cornish Sea Salt to balance its sweetness and works beautifully with our gooey triple chocolate brownie then coated in milk chocolate for good measure and hand decorated in white chocolate and sugar holly.
The NEW Sparkly Snowflake Christmas Edition Brownie Bomb is hand finished in an edible gold lustre and topped with a sugar snowflake. It's the ideal showstopping dessert for your Christmas Party.
And for our younger audience, there's our NEW Gingerbread Man Brownie Bomb made with vanilla fudge is hand finished in an edible copper lustre and topped with Sid, a friendly hand painted sugar gingerbread man.
Sid will put a smile on the faces of our younger audience with a hidden centre of creamy vanilla fudge encased in triple chocolate brownie and finished with Belgian chocolate.
All our bombs are ideal for for stocking fillers and Secret Santa gifts!
They can also serve 4 people as dessert or you can just have one all to yourself?
Just imagine them warmed through and served with thick double cream…..
Or cut into chunks to top your favourite pavlova or cheesecake or use in an ice cream sundae with your choice of sauce!
Also available are NEW 150g Christmas Fudge Grab Bags. Choose from Salted Caramel, Vanilla, Chocolate Orange, Rum & Raisin, Black Forest and Christmas Pudding.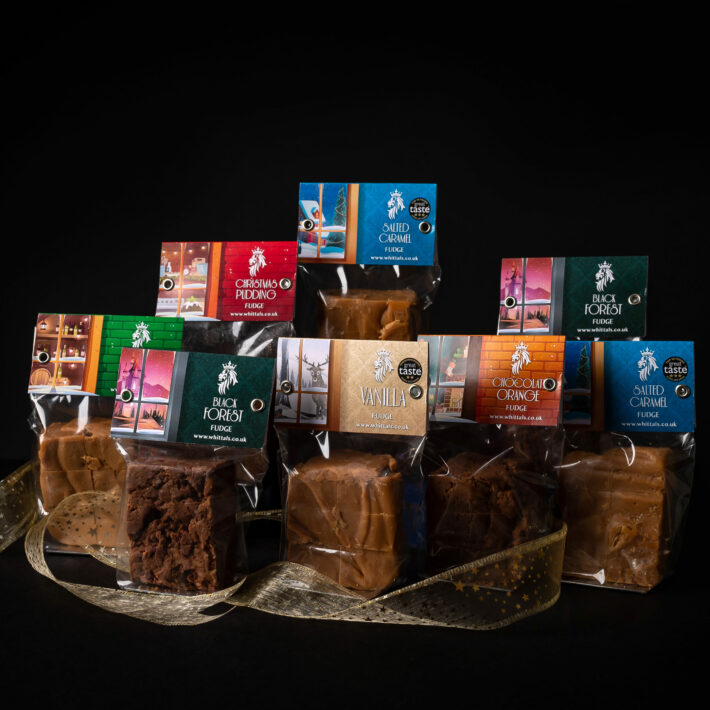 Plus we have marzipan logs and a range of 100g stocking filler gift boxes. Flavours include Salted Caramel, Vanilla, Rum & Raisin, Ginger, Maple & Pecan, Peanut Butter and Chocolate Orange.
Last but not least, our Pick & Mix gift boxes contain not just 1 but up to 4 Whittal's fudge flavours. There are 24 to choose from and a multi buy offer for both our 100g gift boxes and Pick & Mix boxes.
All online orders over £20 (incl postage) come with a FREE Whittal's Tote Bag and there's 10% off your first order!
Local collections are also welcome from the farm, the May Hill Hub and Stroud, Hereford or Orchard Street Gloucester markets on specific days. Details are on our Christmas Markets page.
Pre orders are now being taken. Please email [email protected]